Researcher: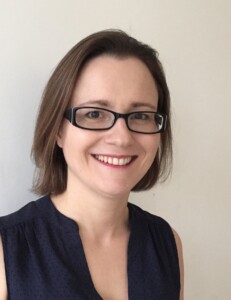 Miss Christina Uwins MBChB BSc Med Sci (Hons) MRCS MRCOG Senior Clinical Research Fellow in Robotic
Meet the Researcher:
We would like to introduce you to Christina Uwins, who is being funded by GRACE to carry out research into robotic surgery for patients with Ovarian Cancer. This is called the MIRRORS Study.
Christina is a Senior Clinical Research Fellow in Robotic Gynaecological Oncology at Royal Surrey NHS Foundation Trust. She is currently working towards an MD at the University of Surrey. Christina's research is based at Royal Surrey NHS Foundation Trust which is the UK's first Epicentre for training in robotic surgery for gynaecological cancers, ie a recognised centre for minimal access surgical training and research in enhanced recovery. Christina trained in Aberdeen where she achieved a 1st Class Honours in BSc Medical Sciences and two distinctions in her clinical years whilst at the University of Aberdeen Medical School. Christina is now enjoying the challenge of clinical work in Gynaecological Oncology and working towards her MD.
Following the completion of her MD, Christina plans to undertake Gynaecological Oncology Sub-speciality training with the ultimate goal of being a Consultant in Gynaecological Oncology.
MIRRORS "Minimally Invasive Robotic Surgery, Role in Optimal Debulking Ovarian Cancer, Recovery & Survival" is a new United Kingdom based prospective feasibility study the purpose of which is to establish the feasibility of launching a British multicentre randomised control trial of Robotic interval debulking surgery for ovarian cancer (including cancer of the fallopian tube & peritoneum) in the future. This initial feasibility study will focus on the ability to recruit patients, acceptability, quality of life, the rate at which it is possible to remove all visible tumour and the rate of conversion to open surgery. Ultimately we would like to determine whether, in selected patients, robotic surgery offers improved quality of life and recovery with equivalent overall and progression free survival.
The study will be offered to all adult women with ovarian cancer (which includes cancer of the fallopian tube & peritoneum) who have had chemotherapy prior to surgery. Women will be identified through our multi-disciplinary team meeting. A Pelvic Mass >8cm and extensive disease requiring liver / upper Gastro-intestinal surgical support will exclude patients if an open surgical approach is necessary. Robotic surgery is unlikely to be suitable in all cases of ovarian cancer, particularly those with large pelvic masses or extensive disease around the upper part of the abdomen, however, it has the potential to provide significant recovery and quality of life benefits to a selected group of patients.
MIRRORS – ICG "Peritoneal angiography/perfusion assessment using Indocyanine green (ICG) in patients with advanced ovarian cancers" is an ancillary study within MIRRORS. Using ICG dye, we aim to observe whether there are any changes in the blood vessel pattern associated with the tumour deposits we remove that makes them distinctive. The ICG will not be used to guide where biopsies are taken or tissue is removed. Participation in this ancillary research is not required for participation in the trial.
Supervisors:
Mr Simon A. Butler-Manuel MD FRCS FRCOG
Consultant in Gynaecological Oncology
TPD for Subspecialty Training in Gynaecological Oncology, Guildford
Honorary Senior Lecturer, University of Surrey
Director, Intuitive Epicenter for Gynaecological Robotic Training, Guildford
Dr Agnieszka Michael 
Senior Lecturer and Consultant Medical Oncologist
School of Biosciences and Medicine
University of Surrey