Ovarian Cancer. Know the signs & take action – it could save your life.
May 8th is World Ovarian Cancer Awareness Day, and with 7,400 UK women diagnosed each year resulting in 4,100 deaths from the disease – that's 11 wonderful women lost a day – it's our mission at GRACE to raise awareness so that women seek early help and have the best chance possible of beating the disease and living a long life with their families and friends. We spoke to one of our inspirational GRACE woman, Pandy Dean, about the importance of knowing the symptoms to look out for, trusting your instincts, talking to others – and not being deterred if the first visit to the GP doesn't get you the referral you think you need.
Pandy, what made you seek help in the first instance?
I led an incredibly active lifestyle prior to my diagnosis, running 10km every morning before a full day at work, then teaching Zumba in the evenings. One day I went to the doctors because I wasn't really feeling myself, but I didn't think it was anything serious – I just thought I was going through the menopause; I was 54 at the time. After having a chat with my GP, they looked at my records and saw that I hadn't been to the doctors in years so they sent me for a scan. In hindsight my symptoms were there – I just didn't recognise them. I did need to pee more, and I did have abdominal pain, but I just put it down to menstrual cramps and the same is the case for many women I have spoken to.
After diagnosis, what came next?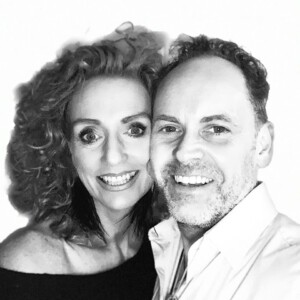 Suddenly everything was a bit of a rollercoaster! I was called within 24 hours of my scan and diagnosed with advanced MMMT cancer, which is quite a rare and aggressive form of ovarian cancer. Following my operation in 2016, my surgeon Mr Chaterjee came out and said it wasn't looking good. The cancer had spread throughout my ovaries and I needed to have 8 of my organs removed. I was given 1-3 years and started my chemotherapy treatment. It's now been 3 years and I'm feeling really fit! I walked my first marathon since my diagnosis last October and I've picked up running and dancing again. I go back to the RSCH every 12 weeks to get my bloods and scans done, and I get in touch with Mr Chaterjee or my clinical nurse specialists if I feel unwell.
Is your story typical of other women who have been diagnosed with ovarian cancer?
No not at all, I actually feel really lucky that once I finally went to my GP, my cancer was detected quickly.  I speak with lots of women in support groups and the over-riding theme is that they have gone on for some time with concerns and multiple visits to the GP before finally being diagnosed. The only other person I have known who was diagnosed as soon as they went to get checked was my dear friend, Kelly, but her story differs from mine in that Kelly was a much younger woman, who most people don't realise are still at risk of ovarian cancer. People always think that it's women who are middle aged and older, they think it won't ever happen to them – but women of all ages can have ovarian cancer so recognising the symptoms is vital for all women and taking action early is crucial.
Can you tell us about Kelly's story?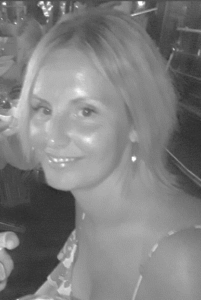 I met Kelly in intensive care when we were side-by-side after our surgeries, and once we were up on the ward we got talking and I was just shocked at her age. I couldn't believe this young girl had ovarian cancer – she'd been diagnosed with epithelial ovarian cancer at the age of just 26 after being sent for scans due to problems trying to conceive. By the time I met her in 2016 she was on her third surgery.
Kelly was a funny, beautiful, warm-hearted and wonderfully crazy young lady who kept on smiling despite how much she'd been through from such a young age; her life following diagnosis revolving around constant clinics and hospitals and appointments. Everyone who knew her, including all the doctors and nurses at St Luke's at the Royal Surrey, were so fond of her and had such a great respect for her.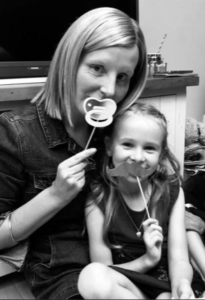 We became really close friends since meeting on our recovery beds, and seeing how her life was being curtailed by the disease, I would have swapped places with her in an instant. I was 20 years older than her knew that she'd never get married, she'd never have children – Kelly loved children, I think that was the hardest part, knowing she'd never have any. Kelly's niece, Lottie, who's nearly 5, was the sunshine in her life; even when she was so poorly she still insisted that Lottie go to hers for a sleepover, she absolutely adored her.
Kelly was a shop-a-holic, a soap-a-holic and a wonderful friend, but she lost her 11 year battle with cancer last month, on 22nd April 2020 and she will be missed dreadfully by all of those around her.
What message would you give women who are worried about wasting the doctors time or feeling unable to go back after seeing the GP maybe once or twice?
The only person who knows your body 100% is yourself, and most people know when there's something not right. GPs can get it wrong. My goodness they have so many diseases to learn about and they are overstretched in the NHS, so they might say "it sounds like it's period-related", or, "let's give it another month..", but a month is the difference between life and death with a lot of gynae cancers. My cancer is very aggressive and was already at an advanced stage so if I hadn't been diagnosed straight away, I wouldn't be here. It's so important to keep going back if you feel something's not right and keep asking your GP for a referral! It was heart-breaking for everyone to lose Kelly, and something no family should have to go through. If you have any of the symptoms of ovarian cancer – even if you are a younger women like Kelly, you must get seen by the doctor and don't be fobbed off!"
                                                                                 _______________________
When we lose women, families and communities are devastated. Kelly's family want her story to be shared to raise awareness of ovarian cancer and help save other women's lives. Inspirational survivor and fundraiser extraordinaire, Pandy, will continue to fly the flag and fundraise for GRACE in Kelly's memory and she asks that you share their stories with your friends, families and wider networks. Pandy says, "I feel really strongly that more needs to be done to raise awareness of ovarian cancer. For breast cancer for example, virtually all women know to check their breast regularly and look out for lumps, but as ovarian cancer can be so difficult to detect, it's so important that all women are made aware of the symptoms so that if they do have cancer it can be diagnosed at the earliest stage possible. If sharing our stories can save just one woman, that's what matters."
The symptoms of ovarian cancer are subtle and easily missed. Look out for these new and persistent symptoms that don't come and go, simplified by the acronym, BEACH:
Bloating
Eating less – loss of appetite
Abdominal pain and discomfort
Change in bowel or bladder pattern such as wanting to pee more often, nausea/indigestion
Heightened fatigue, especially when accompanied with any of the other symptoms
Early diagnosis saves lives. If you have any of the symptoms always ask the doctor if they have considered ovarian cancer.
*https://www.cancerresearchuk.org/health-professional/cancer-statistics/statistics-by-cancer-type/ovarian-cancer