Spectrum welcomes GRACE as its Charity of the Year for 2022!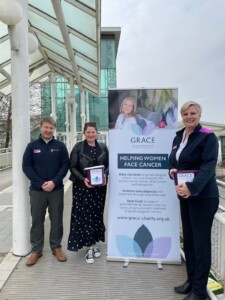 Guildford Spectrum, operated by Freedom Leisure on behalf of Guildford Borough Council, has named local charity GRACE as its Charity of the Year!
GRACE – Gynae-oncology Research and Clinical Excellence, supports women with gynaecological cancers by raising awareness, funding research and providing local hospitals with vital surgical equipment.
"GRACE will be given Active Card points that can be exchanged for a wide variety of leisure facilities. The activity tickets are generated through the generosity of Spectrum's customers who donate their Active Card loyalty points to the cause. These points are converted into activity tickets for the charity to use as they wish." – Gemma Hodgkiss, Fundraising and Communications Manager
"We are delight that the Guildford public choose GRACE and we are looking forward to working with them to help raise awareness of gynaecological cancers. Freedom Leisure prides itself on serving the community and improving lives through leisure, and this partnership will allow us to do just that." – – Emma Beavis, Guildford Spectrum General Manager.