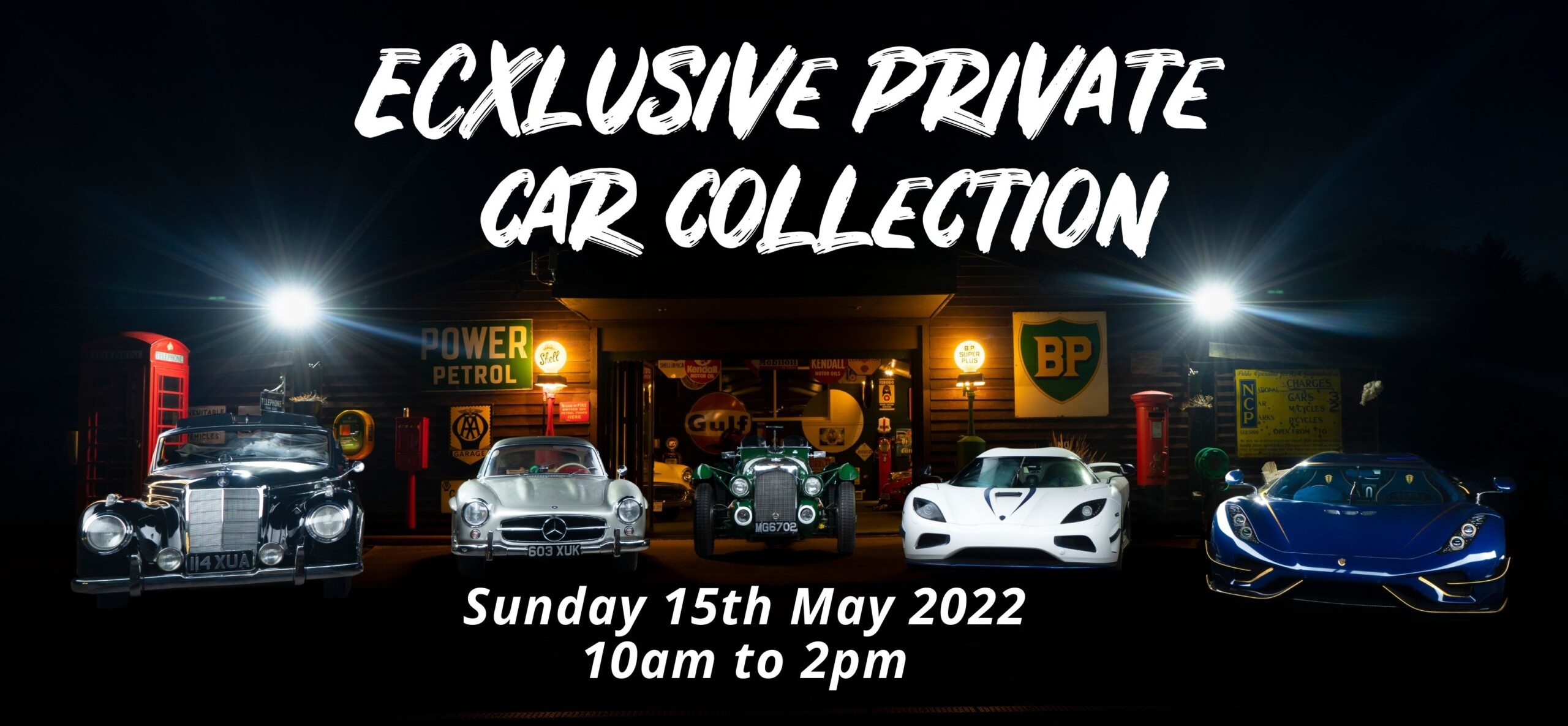 A SPECIAL OPPORTUNITY TO VIEW AN EXCLUSIVE PRIVATE CAR COLLECTION IN SURREY
Sunday 15th May, 2022 from 10.00 am to 2 pm
We are delighted to offer you the opportunity to visit a magnificent private car museum, housing over 70 superb vintage, classic, super and modern-day hyper cars, while at the same time supporting the work of two local cancer charities.
This unique collection of pristine cars is housed in three adjacent museums and includes a Koenigsegg Regera, a Lamborghini Countach, a Mercedes 300SL Gullwing, seen as the greatest example of a Gullwing in the world, a Mercedes SLS, previously owned and signed by David Coulthard, and a vintage Lagonda, to name but a few. With a fully-equipped workshop on site, these cars are maintained to a high standard and regularly driven. Some have had important roles in films and TV shows.
There will be tours filled with stories to share and memorabilia for you to marvel at. The back-drop to the museum is a collection of period automobilia, including the largest collection of petrol pumps and globes in the country. We are privileged to be able to wander freely around the extensive grounds and the museums.
There will also be the opportunity to race in an F1 simulator, subject to availability on the day.
There is ample free parking on-site and refreshments will also be available to purchase.
Full details of the location will be given on confirmation of booking.
Purchase Your Ticket: https://www.eventbrite.co.uk/e/visit-an-exclusive-private-car-museum-in-surrey-tickets-245789471927 
For more information please contact us at fundraising@grace-charity.org.uk
All proceeds will benefit two hard working, local charities equally – GRACE (gynaecological cancer) and Story FMR (skin cancer).