Dr. Kavitha Madhuri Awarded The Mayor's Award for Service to the Community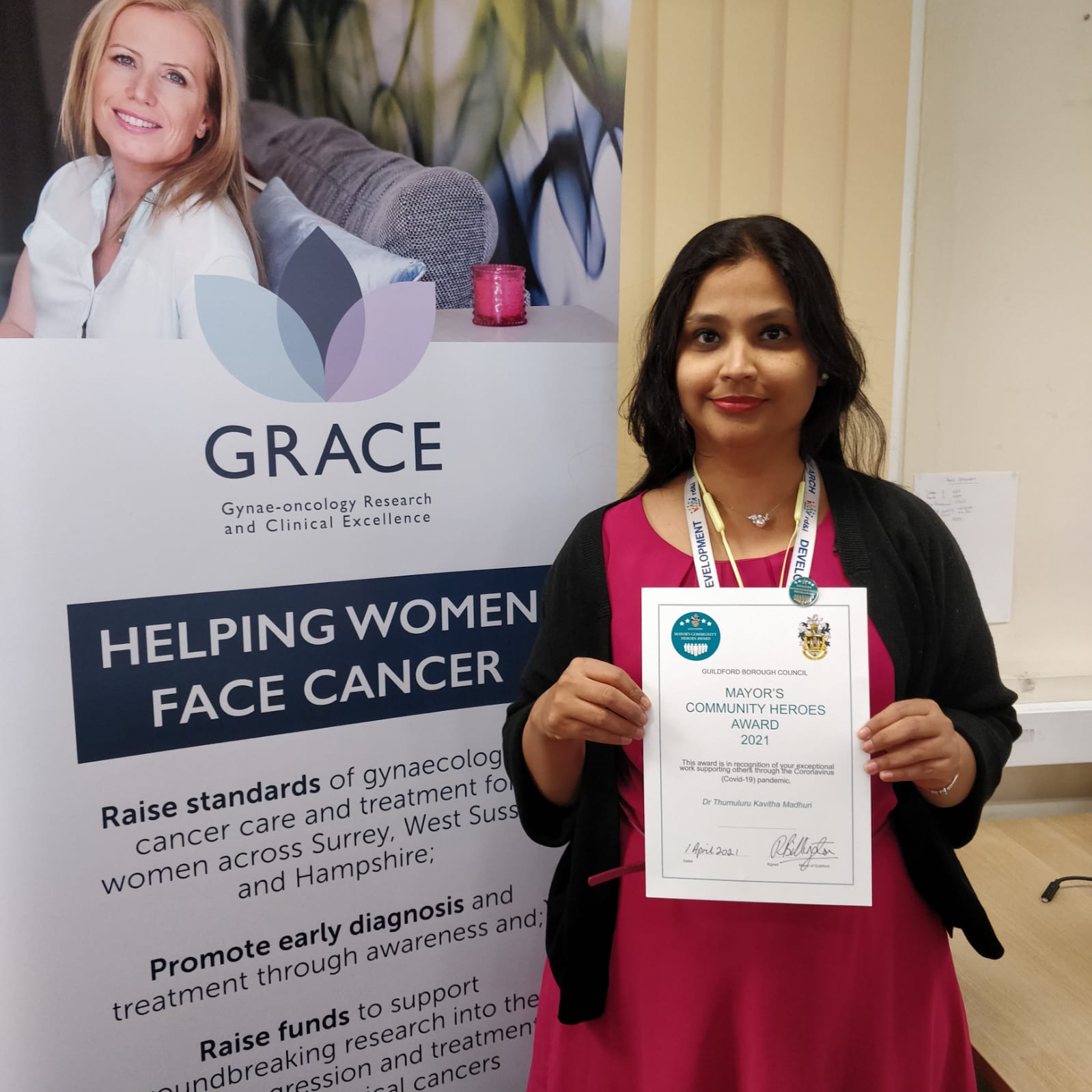 We would like to say a huge congratulations to Dr. Kavitha Madhuri who was recently awarded the Mayor's Award for Service to the Community for being a Community Hero!
Kavitha's involvement with GRACE goes way beyond her research. Her support for GRACE in a voluntary capacity is extraordinary. Her commitment and willingness to share her clinical expertise is critical to the success of our awareness campaigns and support for women in Guildford living with gynaecological cancer – never more so that in the past year.
The Mayor's 2021 Award for Service to the Community rewarded people who were nominated by residents in the borough for going out of their way to improve the lives of others, fostering good relationships and encouraging positive community spirit. This year's event, which was broadcast on our YouTube channel on Monday evening, also included a new Community Heroes award to celebrate groups whose activities have supported residents affected by Coronavirus (Covid-19).
Speaking at the awards, The Mayor of Guildford, Cllr Richard Billington says:
"Everyone receiving an award has been nominated by residents whose lives have been touched by their kindness, generosity of spirit and endless enthusiasm, in some cases over many years but particularly during one of the toughest years in all of our lives. Supporting health in our community has been the theme for my mayoral year and every one of the award recipients have made significant contributions to both the physical and mental health of the borough.
"Their stories are inspiring and confirm the wonderful sense of community that we have in Guildford. I am delighted to have been able to recognise the tremendous contribution that they have made to the borough."
A huge congratulations to Kavitha for being awarded for her ongoing work with GRACE!
To find out more about the Mayors Award, visit: https://www.guildford.gov.uk/mayorsawardforservicetothecommunity