Emma's Emotional Cervical Cancer Journey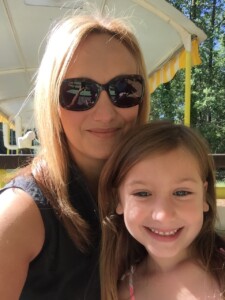 "I felt like the chair was swallowing me up. My husband and I were in complete disbelief. We were both frightened, scared and lost. The only thing we knew was that from this moment life wouldn't be the same."
It all began back in July 2013 after giving birth to our baby girl Georgia. I felt so much joy and excitement to have my little girl and husband,  and my life couldn't have been any better. Little did we know how much things were about to change.
I was experiencing some discomfort and felt that my stomach was dragging and heavy. After chatting to a friend she said that it was normal to feel that way but that it would be worth seeing my doctor. It also occurred to me that during my pregnancy, someone had said that after you have a baby you need to get a smear test. So on that note, I booked my smear test and went along three days later. As I was getting out of the car and heading into the surgery for my smear test, my friend called me to have a chat. I explained that I was about to have my smear test and she reminded me that I had gotten one a year ago. Even with that in mind, I still felt that something wasn't right.
I had my test and a few days later I received a phone call saying that they needed to do some further investigations because something had appeared abnormal with my results. I am very independent and come from a strong-minded family so I went along to St Peter's hospital where I had to have a very though internal examination in which they removed things that needed to be tested. As I lay there in excruciating pain and looked at my baby, a million and one questions ran through my head. What was happening? I asked myself, and why was this hurting more than I thought it should? Thankfully, my husband arrived but by that point, I was crying my heart out and we both had a bad feeling. With more doctor's examining me, and the process taking nearly 2 hours, it wasn't looking good. We were reassured that they would be in contact as soon as possible and that it would sadly be a waiting game until then.
So after they tested the sample, the results came back and my husband and I were called in for a meeting on September  3rd. The feeling of leaving our house scared me as I didn't know what and how we would be feeling when we returned from this appointment. We left our baby girl with my in-laws because my parents were away on holiday and we hadn't informed them that things weren't right.  Normally I would talk to my parents about everything but my father was battling prostate cancer and this was something that would have been incredibly difficult to discuss with them.
When we arrived we had to wait for over an hour, it was agonising. We were called in to be introduced to a consultant and a nurse was waiting for us too. We sat down in a small room. All I remember was that it had strip lighting and I felt like the walls were closing in on me. The doctor asked me for my name and date of birth then said 'we have had your results back and they have come back with the diagnosis that you have Cervical Cancer'. I felt like the chair was swallowing me up. My husband and I were in complete disbelief. We were both frightened, scared and lost. The only thing we knew was that from this moment life wouldn't be the same.
At that point, the specialist explained that they would need to do an MRI, PET SCAN and other tests to see if it had spread. He said that from this point it would take a total of six weeks to do all the tests, meet my surgeon and carry out the procedure to remove the cancer. We were desperately trying to take all the information in and my chair was still swallowing me up. When the consultant had finished discussing things with us, the nurse took us into another room to discuss things further. My husband held my hand but as we both stood up my legs completely collapsed. I didn't have the strength to stand up. Callum and I were taken to the smaller room and the nurse kindly and thoughtfully tried to comfort us, but all we wanted to do was to get out of there because we felt like we couldn't breathe.
After leaving the room we headed out of the hospital in silence. We drove to the river and took a long walk. As we walked, we realised that we had no idea what we were dealing with and our biggest fear was it spreading. After two hours of walking and talking, we returned home and tried to get our heads around it. Going home and seeing our little girl was one of the hardest moments because all I could think of was whether I would be around to see her grow up and that was breaking my heart. Within three days I had my MRI on a Sunday morning, then a week later went to my PET scan to identify if and where it had spread.
A week later, I had to go to The Royal Surrey County Hospital where I would be having all my treatment from now on which is where I met undoubtedly the best surgeon ever who was going to perform my surgery and be my consultant. His name is Simon Butler Manuel. He was very professional, incredibly kind, very thorough and from the moment I met him I knew I was in the best hands and could completely put my trust in him. I then had the pleasure of meeting the rest of the team and was assigned a nurse Fiona who was so wonderful, so attentive and always there for me. I soon realised that if I needed anything, I could call and they would always be there to help and reassure me.
Kavitha, who was part of the large team that is based at St Luke's Cancer Centre, was the other doctor who took care of me. She has been such a rock to me and still very much is. Kavitha has been my rock, I have total faith in both Simon and Kavitha and the continuous care and attention they all gave me was absolutely extraordinary, especially at such a delicate and emotional time in our lives.
One afternoon I received the phone call that we had all been dreading, the phone call telling us if it had spread. But to our delight, it was contained. A few days later we had another meeting with Simon in which he asked if it was our intentions to have any more children. We expressed how much we really wanted to have at least one more child if it was possible. So they said that they would need to remove 90% of my cervix to give us the possibility of having another child but that I would be required to have a full hysterectomy within two years.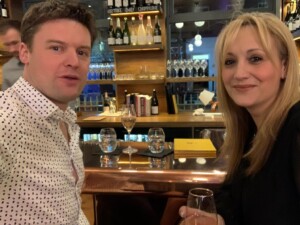 When the day of my surgery came, I was terrified beyond anything I could imagine and didn't know what to expect, but I knew that I would be well cared for. Then I saw Simon, who reassured me that it would all be ok because it would be part robotic and part surgeon, so I trusted him then went to sleep.  I woke up feeling really unwell but it was over and had been a complete success. 
The recovery took around 6 weeks but throughout it, I thought of our little girl and how I could enjoy seeing her grow up and imagined what our life would be. After having Georgia, I had been unaware that I had been suffering from postnatal depression and so I wanted to take the opportunity to start being me again and get our family's life back on track. So after returning home, I had to start again. I knew that I had been given a second chance and it was time to grab that with both hands and make the most of my life because my life had been saved. I will always be eternally grateful to Simon Butler-Manuel, Kavitha and the team.
Find out More