Surrey Three Peaks Walk 2021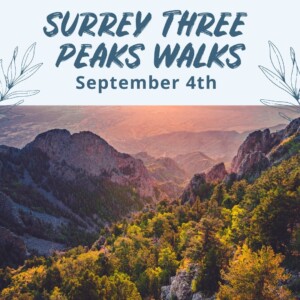 A magnificent walk through the glorious Surrey Countryside conquering Holmbury Hill, Leith Hill and Box Hill in the process! Starting from the village of Holmbury St Mary the walk will take us through ancient woodland, past rivers, ponds and waterfalls and will be a magnificent way to spend a day.
The event is open to all, there will be marshals walking with you guiding the way and a comprehensive set of walker notes will be provided. It is a superb, exhilarating, strenuous and fun days walking!
Walk Options
Three Peaks Silver – 8 Miles – Holmbury Hill, Leith Hill finish at Westcott Green (3-4 hrs).
Three Peaks Gold – 13.1 miles – Holmbury Hill, Leith Hill, Box Hill and finish! (5-6 hours).
Three Peaks Platinum – 26.2 Miles – Holmbury Hill, Leith Hill, Box Hill and return walk to base 13.1 miles each way (10-11 hours).
Please note walkers are welcome to walk as much of the route as they wish – please just let our marshals know if you are finishing early and please note that you are responsible for your onward travel arrangements from the point at which you end your walk.
Minimum fundraising £200 per walker.
If you wish to participate please contact Nicola Pegler at Grace – nicolapegler@grace-charity.org.uk