Update From The Researcher Desk: Groundbreaking MIRRORS study at the Gynae-oncology Robotic Surgical Epicentre in Guildford
By Christina Uwins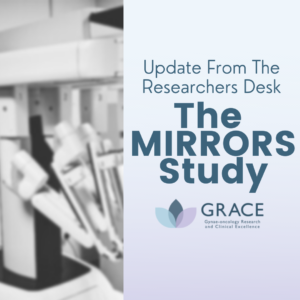 MIRRORS – Robotic surgery for advanced ovarian cancer to improve recovery and quality of life following surgery.
MIRRORS, an exciting trial conceived by Mr Butler-Manuel, (Consultant in Gynaecological Oncology and Director of Gynae-oncology Robotic Surgical Epicentre), and run by Christina Uwins (Senior Clinical Research Fellow in Robotic Gynaecological Oncology) in Guildford seeks to provide advanced ovarian cancer surgery with Robotics, slashing recovery times and improving the quality of life of women with this disease.
MIRRORS opened at the height of the pandemic and greatly supported Royal Surrey's ability to provide cancer surgery during this period when bed pressures were at their highest. MIRRORS is a feasibility study chiefly looking at whether women wish to have the option of this form of surgery and the post-surgery outcomes. Ultimately to show that the surgery is as good as the traditional approach we will need to open MIRRORS RCT (randomised control trial) to directly compare the traditional approach with the Robotic approach. MIRRORS has been strongly supported by patients and 89.4% of patients enrolled in MIRRORS have successfully had Robotic interval debulking surgery with a median length of stay of 1 night compared to 6 nights for similar open procedures.
Standard surgery for ovarian cancer is open, involving a 30-40 cm cut down the middle of the abdomen and is performed with the aim of removing all visible disease. This is called interval debulking surgery when it is performed after 3-4 cycles of chemotherapy.
More than 70% of women with ovarian cancer will present with stage 3 or 4 of the disease with the peak incidence being between the ages of 65-69.  At an advanced stage, surgery is with curative intent but in many cases, the disease recurs and women need repeated courses of chemotherapy.  Open surgery can take 3+ months to recover from.  One‐year survival in England ranges from 98.0% (stage I) to 53.8% (stage IV), with five‐year survival rates of 93.3% and 13.4% respectively.  
In a disease where life expectancy is significantly shortened; reducing the amount of time spent recovering from surgery could have significant benefits on a woman's quality of life and the ability to spend more time with loved ones.
The MIRRORS Study has recently received a wide variety of press coverage:
Interview on BBC Radio: https://grace-charity.org.uk/mirrors-study-bbc-surrey/ 
Interview on Brooklands Radio: https://grace-charity.org.uk/mirrors-study-on-brooklands-radio/