This month is Ovarian Cancer Awareness Month! Throughout the month, we will be sharing stories, interviews, facts and resources to help you learn more about ovarian cancer and the work GRACE is doing to support women experiencing it.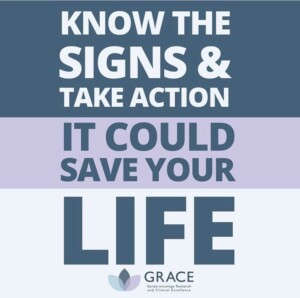 Ovarian Cancer. Know the signs & take action – it could save your life.
Pandy says, "I feel really strongly that more needs to be done to raise awareness of ovarian cancer. For breast cancer for example, virtually all women know to check their breast regularly and look out for lumps, but as ovarian cancer can be so difficult to detect, it's so important that all women are made aware of the symptoms so that if they do have cancer it can be diagnosed at the earliest stage possible. If sharing our stories can save just one woman, that's what matters." Read more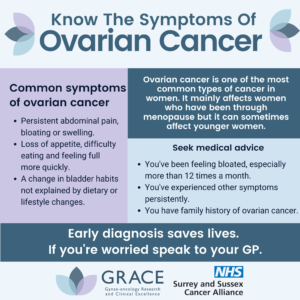 Surrey and Sussex Cancer Alliance teams up with GRACE
This Ovarian Cancer month, we've teamed up with Surrey and Sussex Cancer Alliance (SSCA) to raise awareness of the symptoms of ovarian cancer and encourage women to seek medical help sooner.
"The problem is that many women are still not confident in spotting the symptoms of ovarian cancer and therefore they don't seek help until the disease has spread which makes it harder to treat," says Mr Simon Butler-Manuel, SSCA's gynaecological oncology lead and GRACE founder. Read More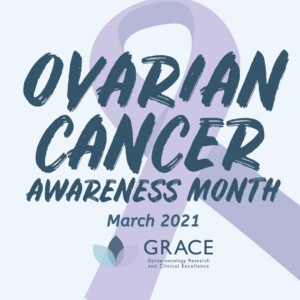 Knowing the symptoms of ovarian cancer can save your life
A devastating 4,200 women in the UK die of ovarian cancer every year, knowing the symptoms can save your life. Ovarian Cancer is often diagnosed at a late stage due to the vague symptoms that women present with. Raising awareness is very important so that women may seek help. Here you can listen to Dr.Kavitha Madhuri's interview with Jill Bennett from Brooklands Radio.