Thank you for raising £1,800 through the 2.6 Challenge!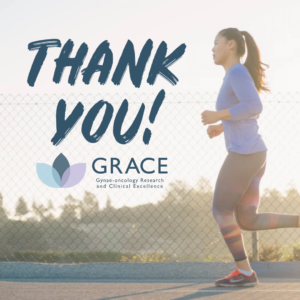 We wanted to say a huge thank you to everyone who took part in or donated to the 2.6 Challenge for GRACE! In April, Virgin established the 2.6 Challenge in lieu of the Virgin London Marathon to try, in a small way, to fill the gap in fundraising caused by the cancellation of the Marathon due to COVID 19. And the GRACE community really came together!
We would like to express our thanks to Kat Mack and Kobe for cycling 26.2 k and to Hellen Revenko who walked 26k over a couple of days. Together, Kat, Kobe and Hellen raised almost £1,800. Well done you guys. We really appreciate your dedication and send our thanks to everyone who supported you.
We would love it if even more people got involved! No-fuss or drama –  by just getting on your bike, walking out of your front door and telling your friends and family, you can raise funds for GRACE to help improve the lives of women diagnosed with the gynae cancers. One day that woman could be a loved one, join our fundraising campaign.